Who do we work with – and what do they say about us?
We work mainly with (see list at the bottom of the page)
local autorities
schools
charities

nurseries, kindergartens, youth clubs etc

further education/sixth form

architects and designes

FFE providers
We have a strong visionary focus and work mostly with clients who also enjoy breaking new ground.
What do our clients say about us?
Andy Raymer, former head of Matthew Moss High School, now on the international leadership board at VEGA schools, India: "Lene organised two learning visits for my teachers to Copenhagen and to Helsinki. Everyone who took part agreed that these trips were superbly organised and that Lene brokered one of the very best learning experiences of their lives." 
– John-Erik Bang former head teacher, Ordrup School:
Lene Lange is a skilled consultant and project manager with a very motivating attitude. She is probably one of few who know a lot about rebuilding schools and re-educate people in Denmark. She holds a broad palette of tools, techniques and competences to facilitate and handle development projects, at all levels – and she is an effective coach on a personal as well as on a professional level. I know that Lene Lange can "move" organizations and individuals and she does this on a highly professional level!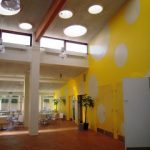 – Lars Baaring-Hansen, deputy head teacher, Skovshoved School – regarding construction of integrated space for school and leisure:
We presented Rosan and yours proposal for a furnishing plan for the primary school on the department meeting last night. We stressed (strongly) the need for recycling a lot of the existing furniture. Inspite of this the enthusiasm is high (and it is not an exaggeration). All parties can see huge advantages in implementing your proposal.

– Astrid Birkbak, head teacher, Nordre Skole in Svendborg where Lene was invited to speak and lead the following workshop on rebuilding the school with the Board of Governors.
Lene managed in a very stimulating way to create a great atmosphere and free up a lot of creative energy among the attendees. Lene organized a very creative process that brought disruption and challenged participants in an exemplary manner. Lene contribute with her entire appearance to the motivation and engagement of the participants, and with her great professional insight into the processes around rebuilding schools, she is an extremely competent and very inspiring consultant, and her work was of great value to us. I therefore strongly recommend Lene as organizer of creative processes, facilitating development and change in organizations.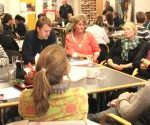 – Peter Overgaard Sorensen, head of teaching, Samsoe Skole after a talk about open vision processes for Aarhus Midtby:
In my 17 years as head of teaching I haven't heard a more relevant, inspiring and to-the-point presentation than the one you delivered last night, even under some time pressure. You managed to make link between pedagogy and school construction and the problems of being bound to the past and unable to look to the future that was very clarifying for me. A thank you from me and my board and we hope to have the opportunity to meet you again.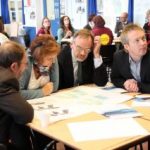 Parkwood Academy, Sheffield:
– Yasmin Shariff, representative of the school's fund-based owner:
"Thanks for being so inspiring"
– Mallaband Chris, head teacher:
The feedback is extremely positive. Along the lines of:
– I wish we had had an input like this at the start of the process
– I wish parents had also been invited
– Inspirational – especially when she talked personally about her own daughter's experience.
Also there was no negative feedback although there were plenty of comments like "you could not do it here" and "health and safety rules would not allow it here" etc.
– Teacher:
Wauv … .. you really made me THINK!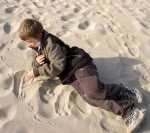 -Marlene Schwalbe, parent and board member, Børnehuset Skovmosen after presentation and process about educational development:
I also feel a great urge to say thanks for a fantastic presentation. It provided food for thought both as a director – and as a mother and educator.
It was a really good experience to work with the staff team and sense everyone's engagement and their individual / exciting approaches to the topics.
I look forward to follow the next steps and a thousand thanks for the opportunity to attend and participate in the educational development process.
– Malene Borup, Head of Børnehuset Skovmosen:
Once again many thanks for your amazing performance. In my opinion it was a super beginning of the project with educational development. I clearly sense that the staff enjoyed the evening and is very engaged. And you have made everyone think about the process. Besides what you do and the tools you have provided, you also induce trust and confidence in the participants with your personality. That plus your eloquence opens people up.

Richard Rule, Specialist Schools and Academies Trust: "What you had to say was not only engaging but also insightful and thought provoking and had clear resonance with the audience."
Vera Jajechnyk, St. John's Catholic School, London: "It has been one of the most powerful CPDs (continuing professional development) I have experienced!"
Autens worked for and with…
Local authorities: Gentofte Kommune Skole – Børn & Fritid; Gentofte Kommune – SKUB; Helsingør Kommune; Leicestershire County Council; Århus Kommune Børn & Unge; Frederikssund Kommune; Fredericia Kommune; Gribskov Kommune, Slagelse Kommune; Rudersdal Kommune; Rødovre Kommune; Furesø Kommune (via Grontmij), Silkeborg Kommune, Ballerup Kommune, Roskilde Kommune (Musicon), Københavns Kommune, Bedford Borough Learning Exchange.
Organisations, associations, trusts etc: Danmarks Privatskoleforening; CEDEFOP – EU Center for Vocational Education; EACT Academy Trust (UK); SSAT Academy Trust (UK); Human Scale Education (UK); Universefonden; Bedford Borough Learning Exchange (represents >100 schools in Bedford)
Architects, contractors, consultancies etc: Grontmij (tidligere Carl Bro); Henning Larsen; C. F. Møller; Kuben Management; Friis & Molkte Arkitekter, Adept Architects,  Aarstiderne Arkitekter, Space Design (UK); Mike Davies (UK) – and a long range of architect and engineering companies in relation to bids on large capital investments in education.
Schools: Skolen på Nyelandsvej, Hellerup Skole, Matthew Moss High School, Carolineskolen, Skovshoved Skole, Høsterkøb Skole, Glostrup Skole, 10.klassecenteret i Gentofte, Gentofte Skole, Munkegårdsskolen, Sølystskolen, Ådalens Privatskole, Ordrup Skole, Rathlouskolen, Bakkegårdsskolen, Nordre Skole, Skovgaardsskolen, Skanderup Efterskole, Sct Knuds skole, Samsøgades Skole, Søgårdsskolen, Hedehusene skole, Helsingør Skole: Helsingør Byskole og Skolen ved Kongevej, Skolen ved Nordens Plads, Nivå Centralskole, Sct. Jørgens Skole, Islev Skole, Engelsborgskolen, Mørkhøj Skole – and a large range of Danish and British schools in relation to DK-UK partnerships for inspired teaching practice.
Colleges, high schools etc: University College Nordjylland (UCN), SOSU Nord (social & health college), Station Next, Roskilde Technical College, Loughborough College (UK), Aurehøj Gymnasium (sixth form college), Parkwood Academy (UK), Sosu C – learning lab, SOSU Fyn, SOSU Silkeborg, UCR – Uddannelsescenter Roskilde
/Slagteriskolen, University College Lillebælt, Helsingør Musikskole
Nurseries, youth clubs, afternoon clubs etc: Børnehuset Skovmosen, Børnehuset Skrænten, Ordrup Fritidscenter, Klub Fiolen, LEVUK, daginstitutioner og klub i tilknytning til Hedehusene Skole. Also SFO's (afternoon clubs) at many of the above mentioned schools.