Lene Lange Jensby is regularly invited to speak at conferences and seminars. She is a lively and engaging speaker.
She also plans and facilitates workshops and other engaging activities to support the development of eg. new learning visions and school (re)building projects.
Lenes work relates to many different groups involved in school development like politicians, boards of governors, local authorites, head teachers, teaching staff, students, parents, neighbors and local community.
Read here what clients are saying. And see examples of Lenes' work under the links in the right section of this page.
Examples of keynotes & workshops
Lessons from the SKUB Project – rebuilding 12 schools: Rebuilding Schools for new Visions of Learning (includes examples of Hellerup School, Ordrup School and others)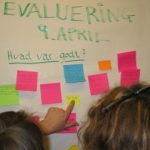 Third Millennium Learning Spaces
Secondary Rebooted: Why we can and must rethink school for teenagers!
Transforming Schools without Rebuilding: Learning Spaces as transformational engine
Communicating Spaces: Learning Spaces as a strong narrative to mirror and support Learning Vision
The relation between school buildings, learning spaces and pedagogy
User voice and engagement in transforming schools