KIA ORA!
WELCOME TO AUTENS PASIFIKA
EXCITING COLLABORATION BETWEEN AUTENS PASIFIKA AND NEW ZEALAND SCHOOLS
In 2021 Autens launched our first sister agency, Autens Pasifika, based in New Zealand in collaboration with and headed by Sandra Jenkins.
Sandra Jenkins is a fabulous advisor and facilitator with a deep knowledge of school development and leadership from her many years as a principal at Freemans Bay School in Auckland. Supporting school transition on many levels from leadership to planning, from co-teaching, personalized learning and not least innovative learning environments and school design to community engagement, she is the partner you want by your side. She is an accredited Ministry of Education PLD facilitator and heads our work in New Zealand and Australia working closely with leadership teams, teachers, students and the local community.
We already have a portfolio of inspiring projects that touched our hearts, not least giving voice and opportunity to Maori communities in New Zealand, developing school designs that embrace and celebrate Maori culture. Also we are developing strong links with the most passionate group of educators in Australia, exploring why and how space matters in didactic design. 
Lene Jensby Lange, founder of Autens in Denmark and Sandra Jenkins, MNZM are founders of Autens Pasifika in New Zealand. Sandra now delivers Autens workshops in New Zealand schools.
Staff, Learners, Boards of Trustees and parents are invited to participate in workshops designed to encourage rethinking the schools learning environments linked to their vision of learning.
Recent workshops have been held at Owhata School in Rotorua, St Josephs School in Matamata, May Rd School and Oranga Schools in Auckland.
The participants in these schools have found the workshops transformative and inspiring. Lene received this statement in an email from a participant at the Owhata School Workshop.
It is exciting that schools can access this resource in New Zealand since the launch of Autens Pasifika. Sandra can also provide stakeholder workshops for architects to support the development of the concept brief and education vision.
If your school or design team would be interested in hands-on collaboration in Autens' Learning Space Design Lab ™, after which the teams can explore the possibilities in their own learning environments linked to contemporary education and learning organization: contact Sandra at sandra@autens.dk
i gang med projektbaseret læring
Hvordan skaber du et godt projekt, der fanger eleverne, sikrer faglig dybde og understøtter det 21. århundredes kompetencer? Vi viser dig, hvordan du går fra temauge til projektbaseret læring – for der er forskel  – og giver dig basisværktøjskassen, der sikrer, du kommer godt i gang.
PROJEKTBASERET
LÆRING I DYBDEN
- FOR ØVEDE -
Her får du den udvidede værktøjskasse til længerevarende projektforløb, hvor faglige mål bliver særligt vigtige, og hvor vi for alvor træder det vigtige autentiske element i bund i kobling med hvordan du leder differentierede forløb, hvor dine forskellige elever kan shine som dem, de er.
PROJEKTBASERET
LÆRING I NETVÆRK
- PRO -
Har du efterhånden nogle projektforløb under frakken, er det tid at forfine dine kompetencer. Vi inviterer dig i en inspirerende studiegruppe med erfarne kolleger fra andre skoler og en Autens coach. Vi har både rent danske grupper og internationale grupper.
ÅRSPLANLÆGNING
I DEN PROJEKT-
BASEREDE SKOLE
Vi lærer dig vores gennemprøvede Autens-model for årsplanlægning, hvor I som team får ro i maven omkring de faglige mål, kan involvere eleverne i planlægningen og kan kommunikere klart til både elever og forældre.
LÆRINGSRUM I DEN
PROJEKTBASEREDE
SKOLE
Få redskaber til at re-designe jeres klasselokaler til projektbaserede arbejdsformer, som støtter op om elevernes samarbejde, fordybelse, kreativitet og medindflydelse – og hvordan designer I jeres eget arbejdsmiljø som team, så I får stærkest mulig støtte via de fysiske rammer til jeres fælles arbejde?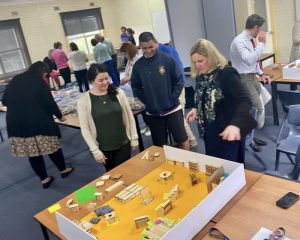 This week Autens Pasifika held a Learning Space Design Lab ™️ workshop with staff, community members
Last week 100 school principals and architects in Adelaide joined our workshop on contemporary schooling
A big shout out to the teaching teams at Oranga School who had amazing energy,