Autens has global in it's DNA. We were forged in global mindsets and international collaboration. We deeply believe that we need to embed global citizenship in our curriculums and foster real global learning experiences for both students and teachers.
We are a profoundly connected company, offering our Scandinavian approaches to human-centered education through an international lens, and bringing global experience back to Scandinavia and to communities anywhere.
We thoroughly enjoy connecting educators and students globally in various formal and informal sharing-is-caring communities.
We are truly thankful for our second-to-none global network that enables all of us to pull off almost anything we can dream of together.
The Future of Education is created by all of us, all across this Globe that we share. 
Imagine the Future If We Reimagine Education Together…
Creativity can be taught, learned and developed. Hear Lene in conversation with West Virginia Department of Education on 21st. century…
Global Schools' Alliance is a family of ground-breaking schools that stand out from the crowd and inspire far beyond their local reach.  
Autens is humbled to lead the alliance that allows courageous schools to work with peers, learn from each other and share their practices on a global stage: empowering educators to continue developing and creating globally inspired change everywhere to the benefit of all students.
Global School Alliance (GSA) is led by Lene Jensby Lange and our mission for this global school network is to ensure that all children have the opportunity to participate in a good quality education no matter where in the world they live. Our mission is, through collaboration, to raise the standard of education worldwide by providing a network of the most progressive schools for: 
Autens is an active member of A4LE – an organisation with around 4,500 members from Australia, New Zealand, Canada, USA, Middle East, UK & Europe. This network aims to promote health, safety, resilience & sustainable 21st century learning environments that inspire 
transformation in education and support a culture of community engagement and strength: fostering local, national, and international dialogue around expertise in designing learning environments. 
HundrED.org is a non-profit organization founded in Finland in 2015 by a group of people with a passion for education, innovation and authentic change.
In 2017-2018 and 2019-2020, our tool "Learning Space Design Lab" has been selected as one of 100 inspirational innovations in education and highlighted as innovative, effective & scalable. Our workshop tools provide the framework for a collaborative process of designing and reorganizing learning environments, while also providing space to transform educational practice through a playful and creative approach.
For many years, we have supported Erasmus projects where teachers and leaders across Europe learn from each other and have the opportunity to see their own practice through the eyes of others. It creates a reflective and perspective-rich learning space and at the same time develops relationships and networks in which Danish schools are lifted into a European context.
We have learned a great deal about Danish schools and day care through outsiders looking at what we experience as given here. The Danish school system from the outside is characterised by freedom and confidence – for the professionals and for children. Then we can think about it – and there is something about it 😉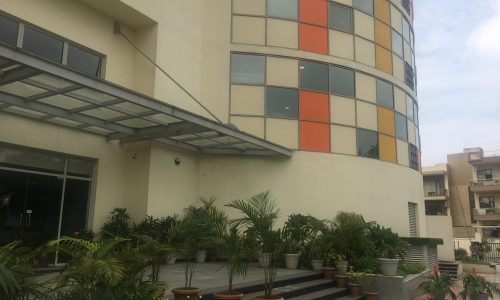 Vega Schools resides in Gurgaon a sillicon Valley area outside New Dehli in India. Vega Believes in active learning with focus on learning spaces for the 21 st century skills and problem based learning.
It is the schools mission, to educate their student to become great citizens, who have competencies that will remain useful for all of their life.
High Tech High is one of the most mentioned schools in the world. High Tech High consists of 13 charter schools in San Diego – elementary schools, middle schools and high schools – which are based on the same methods and philosophy opportunities for everyone. 
What is particularly inspiring is their significant results in closing the gap and seriously reducing the importance of social background. 
CEO and founder of HTH, Larry Rosenstock is one of our close friends here in Autens. Larry Rosenstock and Jean Kluver have visited Denmark, and we are keen to hear more about their thinking and methods. Lene herself has has the pleasure og being behind the scenes at California schools to understand how they work to create the results they do. 
The methods make a different: We have several of their methods in the toolbox adapted to Danish context and are happy to come out and tell about this. We also work closely with a mutual HTH friend David Price, founder of Engaging Learning, change consultant and author of the best-seller book in the school field "Open – How we will live, learn and work in the future".
Want to see the movie? The schools are portrayed in the much discussed debate-documentary Most Likely To Succeed about school and education in light of the future we face. We would love to put up a show with you. Some exciting hours where the film is a good starting point for debating school in the future with your colleagues, staff, politicians, parents, students and other collaborators. 
Contact us at lene@autens.dk