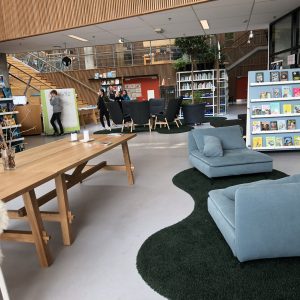 Spaces and interior design play an important role in our life and well-being. When we work with learning spaces and environments, we do so in close collaboration with our customers and partners. Together we create innovative and diverse spaces, that support child well-being, make room for community, developments of 21st century skills, creativity, experimentation and curiousness.  
It is our goal to understand your needs and wishes and in collaboration with you develop hand-made ideas, solutions and inspiration. We do that through workshops and  user involvement, where you and our team or students are the centerpiece and you work with tools to think and work creatively with ideas and solutions and help you move from classrooms and into the possibilities of learning environments.
Our most popular workshop is the learning space DesignLab™, that have been chosen 3 years in a row as one of 100 most innovative ideas for education by HundrEd. You can read more about the workshop here.
Please contact us by phone +4520705230 or Lene@autens.dk for a chat about future environments.
Lene is keynoting online at the upcoming IC3 Spazio Leo event i Modena. Istituto Comprensivo 3 di Modena is a progressive Italian education institutions in K-12.
Read More »