LEARNING SPACE DESIGNLABTM
Do you need learning environments that are more aligned with your pedagogical vision? Spaces tells us a story of how to behave and act. Working with learning environments and spaces can help support inclusion, learning, new ways of learning and well-being – and it's a great tool in the didactic toolbox.
One innovative teacher or pedagogue can change the learning space around them and make the environment better. But it will rarely be a throughout change of the whole institution and its culture. To change that a change in the community is needed, and the change should be made together by listening to each other.
The Learning space DesignLabTM workshop sets the scene for teams and faculty to create new practices and environments together, and empower 
them to go and change tomorrow. It helps participants get new ideas, play, talk and discuss together how they see the future of education at their school.
The workshop have a dual purpose: to create innovative and inclusive learning environments and to create and/or strengthen the pedagogical vision and culture through all with a sense of empowerment and ownership from the partisipants.
Contact us on +4520705230 or Lene@autens.dk to learn more or have a chat about Learning Space DesignLabTM.
Kontakt os endelig på 20705230 eller Lene@autens.dk for at få høre mere eller for at få en snak om Learning Space Design LabTM.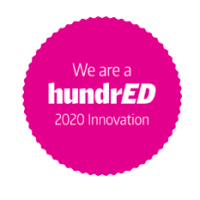 Third year in a row Learning Space Design Lab™ have been chosen as one of 100 global innovations in education by the world renowned finish organization HundrED. The goal of HundrED is to spread knowledge of innovative ideas with the potential to change the world of education.
USE LEARNING SPACE DESIGN LAB™ TO:​
A Learning space DesignLab™ Workshop takes about 2-4  hours. We work with teams, faculty, student councils and other user groups preferably mixing them together.
The workshop is both about the narratives and the design solutions, you create together, as the narrative is essential for you to continue your change.
This workshop focuses around a series of standard size classrooms (63 sqm/ 678 sqf) madeout of white foamboard in scale 1:20
This workshop focuses on your real spaces build in 1:20 according to layout drawings.
If you have special needs for areas, you don't have a schools build yet or aren't working with a school we can create a workshop that still fits your needs
If you have special needs for areas, you don't have a schools build yet or aren't working with a school we can create a workshop that still fits your needs
The school principal Bitten and her colleagues from Søllested Skole have shown both bravery and vision – by placing the learning spaces in the hands
Read More »
(…) "The biggest hit, however was the Learning space DesignLab™, where the employees had to work together and design the intermediate stage they dream of in a specific model. Why it was productive, I can't answer, but there were two bids that everyone could see quality in and which, incidentally, went through a number of reservations that were stated before. The process was filmed and photographed, and we have been sent some other very useful material." Morten May, school principal at Byens Skole.
Principal, Byens skole, Helsingør
The designLab visits
the world